2022 Annual Membership Picnic
UPDATE:
Sold Out! · Thanks to an incredible community of support, we are so delighted to share that the Landmarks Annual Membership Picnic is SOLD OUT! Every year, our members come together to celebrate preservation in Thomas County. Your support for this important event means the world to us. Thank you!
Millpond Plantation
Magnolia Road Entrance

Thursday, November 3, 2022
5:00 – 6:45 Champagne Tour, 7:00 Dinner and Live Music
Join us as we celebrate you, the members who make preservation possible in Thomas County! Enjoy the rare opportunity to explore one of Thomasville's most beautiful historic homes followed by delicious drinks, seasonal cuisine, and live music under the stars on the stunning grounds of the Millpond Plantation
Tickets and sponsorships start at just $100 per person and are partially tax-deductible. To purchase tickets and for details on sponsorship pricing and perks, please download the form to the right.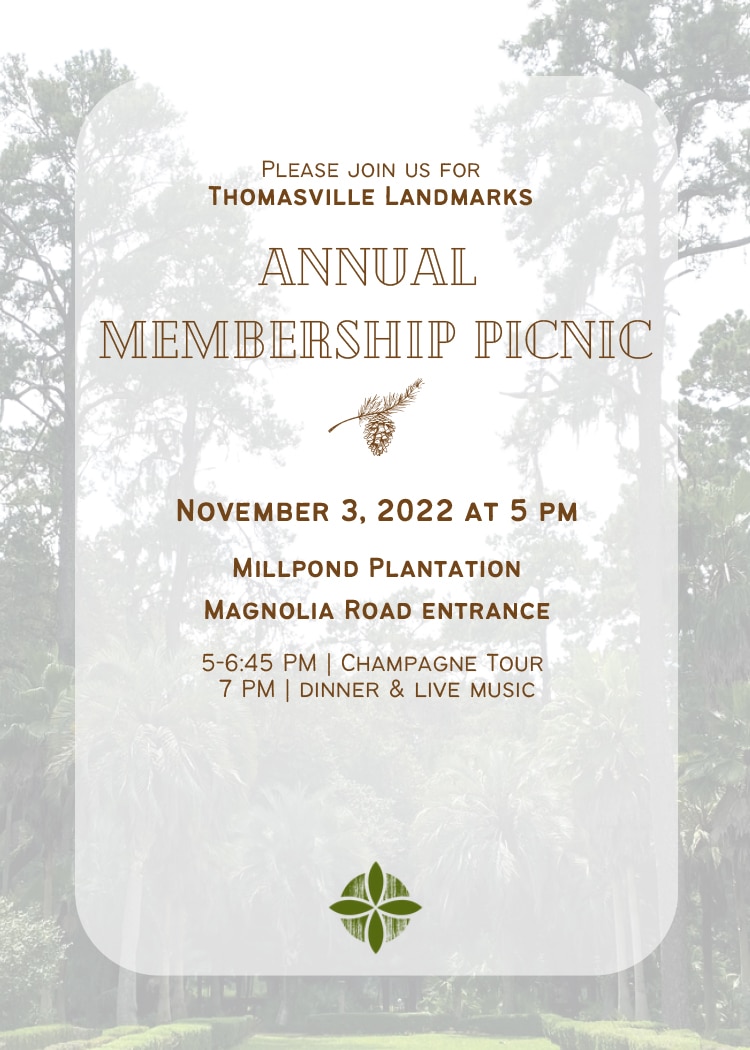 Millpond Plantation
At the onset of the 20th century, Thomasville's role in the development of southwest Georgia's hunting traditions was well established. Millpond, combining Prairie School horizontality with classically inspired Mediterranean-villa design, is distinctive among the region's historic cotton-to-quail estates,
Millpond dates to the founding of Thomas County and the pioneering Wyche family. In 1903, Jeptha Homer Wade II of Cleveland, Ohio, purchased Millpond and began improvements. Wade, a noted philanthropist and art collector, was grandson to Jeptha Wade I, founder and president of Western Union Telegraph Company.
In 1903, Wade commissioned the Cleveland firm of Hubbell and Benes to design the 38,000-square-foot villa with a glass-and-steel pyramidal skylight located above an arcaded, plant-filled central courtyard. Millpond is unique throughout Georgia and stands in vivid contrast to architect John Wind's grand, classically styled homes.